Clear Creek Cat Rescue Cat Bios
Visit the Clear Creek Cat Rescue website here!
Sponsored by …
Kotzy is a darling young boy in black and white. Not the usual tuxedo pattern but his own unique look. He has a lush coat, golden eyes, and the most interesting l-o-n-g white whiskers and eye brows. And one little dab of white on his lip.
Kotzy is a sweetheart who does great with a cat friend and is fine with a nice older kid to be his buddy. He would okay with a mellow dog as well. He is shy at first, but give him a chance and he will be in your lap before long. He very much enjoys being pet by his people. And he does love hanging out with his feline pal. He was used to being able to go outside in his former home so will need a safe yard to play in when the weather warms up. An adventure out in the yard with his cat buddy would be great.
In Wasilla. Call 980-8898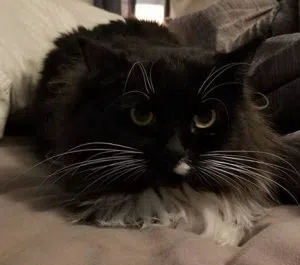 Also, check out our other great cats and kittens available for adoption.